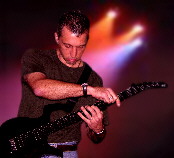 Kevin Schertell's Biography

Kevin creates an eclectic blend of music ranging from classic rock to nu-metal to otherworldly acoustic
and beyond.
Influences and 15 years of professional experience have resulted in a sound and style that is all his own.
He has been recording and releasing both his own brand of guitar music for several years now from
Seattle to Jacksonville. He has appeared in national magazines & newspapers.
His previous band Avenger featured on national andInternet radio stations press reviews: Opening act for
the National recording artists, "Bride" and "Legend 7." Placed 1st in the "Battle of the Bands," Metropolitan
Park, Jacksonville, Fl.
He Played "Mother's Day in the Park" for charity raising event. Played several concerts to collect food
for local charities to feed the homeless.

His Released Albums:
Avenger - "The Lie"
Avenger - "Dr. K"
Blot - "Blot" - EP
"Children of the Light" - EP - "The Soldier's Cry"
Musical influences:
King's X, The Beatles, Dream Theater,
Pain of Salvation, Marillion, Evergrey, Opeth,
Zakk Wylde, Collective Soul and Sevendust.

Equipment:
Parker Fly Deluxe, Ernie Ball Music Man
John Petrucci Signature,
Peavey EVH Wolfgang Signature,
Fender Stratocaster, Custom Strat, Line 6 POD Pro,
Line 6 Echo Pro, Digitech IPS 33B, Digitech GSP 2101,
ART HD15, Mesa Boogie V-Twin,
Marshall and Crate cabinets,
Mesa Boogie Road King,
Laney VH100R and Crate Power Amplification,
BOSS Products
By the time you read this, Kevin has probably bought himself a ton more of musical instruments
and musical goodies, as he is a serious musical equipment junkie with a seriously bad and expensive habit!